By Buddy Blouin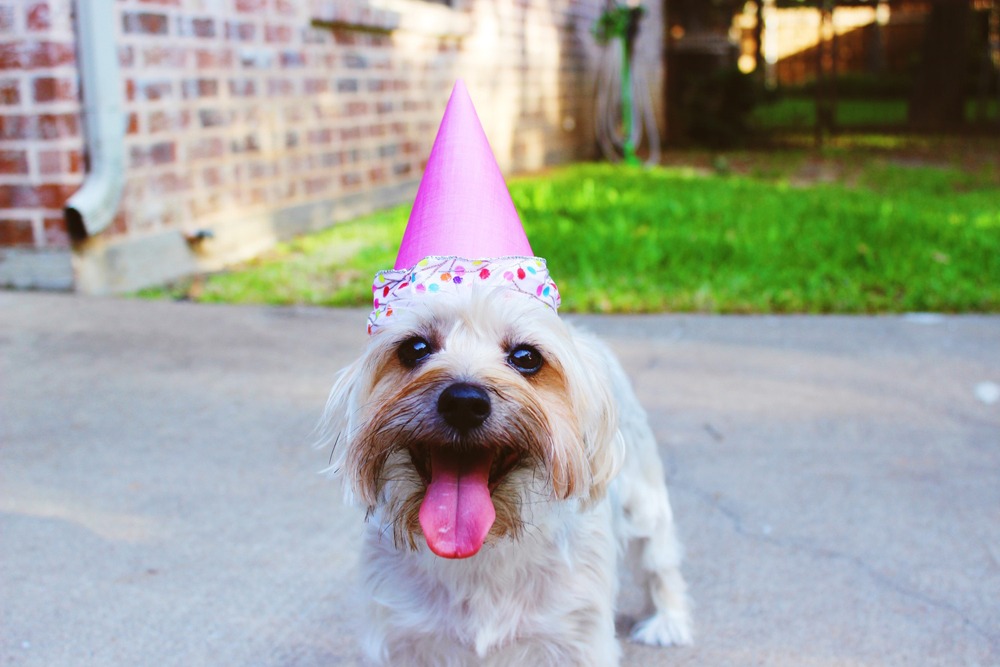 It's Pawrty Time!
Birthdays are a celebration of life, filled with good food, great times, and friends. Personally, if given the opportunity, I'm always down to throw a party! We throw them for our friends, family, and ourselves so why not your pet?
This pet party trend has been on the rise in the new millennium and shows no signs of slowing down. Everything from the glitz and glamour of an Instagrammable celebrity celebration to the modesty of you and your best friend unwrapping a new toy, pet owners are finding ways to celebrate their companions.
You don't have to break the bank to show love and embrace your pet's birth. Our guide will give you some ideas to give your favorite feline or canine or whatever pet you have, a day they will love and you will always remember.
5 Ideas to Celebrate Your Pet's Birthday
The celebration is here! Get ready to shower your pet with tons of love and affection this year with our practical, fun list of ideas to do for your pet's birthday!
Throw a Party
This idea is a bit obvious and growing in popularity, but we would be remiss to not highlight this fun celebration first. You can gather your friends with pets at home and have the ultimate puppy or kitty playdate. You can purchase pet friendly treats, or make your own birthday cake with meats or fun recipes from the web. If your friends don't have pets, invite your pet's favorite human friends (besides you of course) over to join in the fun, and don't forget the cake.
Take Them Somewhere Special
Maybe there's a beach a small distance away you've once traveled to or a nice park your pet loves. The main thing here is to focus on your pet's favorite location and make a day out of it. Maybe a constant behavior they do can give you a hint of what they would like to do on their special day. For example, is your indoor cat constantly sneaking out the house against your will? Grab a leash and take them for a walk as a treat. It's their day, live it up!
Make or Purchase a Box of Toys and Treats
These days, there are many options for opting to buy a mystery box filled with treats. Take advantage of one of the many subscription boxes available, have an Amazon shopping spree, or simply wrap a bunch of your pet's favorite goodies. Another idea is that you can hide them around the house or in the yard and he can look for them! It's a birthday after all and who doesn't love presents?!
Did Someone Say "Spa Day"?
Raise your hand if you don't like to get pampered. Anyone? Thought so, not a hand or paw in sight! Find a spa that can treat your best friend like the king or queen they are and spoil them for a day. Maybe a nice haircut and fancy shampoo bath, or a delightful dip in the spa pool. Consult with the spa of your choosing and see the features that are right for your pet.
Live far and not up for a drive? Don't worry, many services exist specifically to cater to their fuzzy clients at the comfort of their own home.
Wine and Dine Them
Table for two, please. No, you don't have to take them out to your favorite steakhouse, but a nice ribeye for man's best friend or some fresh tuna for your feline friend will go a long way. Be sure to speak with a veterinarian about any potential poisonous foods to prevent any harm. Additionally, don't forget to include some cat-friendly wine or dog approved brews to truly toast the occasion!
Another year with your beloved family member and there are so many ways to celebrate it. Be thankful and show them extra attention and affection on the anniversary of their existence.
What to Avoid
While our guide is sure to delight two-legged humans, be sure that your four-legged partner will be the center of attention and that the celebration suits their unique temperament.
An example would be to avoid any celebration that involves a car ride if your pet is not keen on them.
Much like our human tendencies, don't feel the need to keep up with the latest trends on Instagram or the privileged pooches out there. Spend what you can, but remember love is free and the goal is to show affection, not outspend your "neighbor". Enjoy the celebration and make time to be thankful for your pet every day.
How do you celebrate another year older and wiser with your pet? Let us know in the comments!