By Buddy Blouin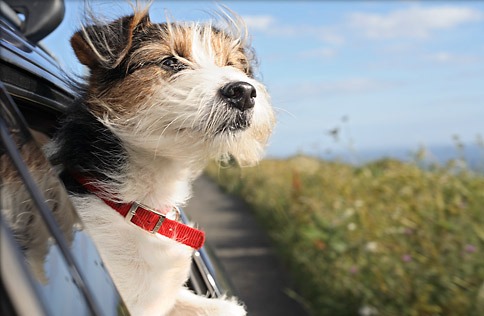 Traveling with your family has been a long time goal. You grew-up camping and the time is now to pass the tradition down to the next generation. There's just one problem, what do you do about your pet? A road trip with only humans, no matter the length, will present its own set of challenges and adding an animal compounds that.

Thinking of flying instead? While it may be a miracle of engineering, flying can be difficult for parents of children and fur babies alike. Of course your pet is your best friend and a part of the family, however, pets will need additional arrangements and preparations no matter your destination or means of transportation.

If you've finally decided it's time to show your pet what it's like to swim in the ocean, hike through the Smoky Mountains, or expand their culture and head somewhere internationally, here are 5 travel tips on reducing stress while traveling with your furry, faithful companion.
What to Know Before You Go:
Before packing your bags, preparing your for trip with your pet should have already begun. Especially when animals are not accustomed to traveling in a vehicle or plane, preparation is key for both of you to have a fun and successful journey:
Have your pet accustomed to traveling. Pets that aren't used to traveling in cars for long periods of time should be driven around in preparation. Start with slower, shorter rides and gradually increase the length of time. Try to simulate a similar traveling environment, for example, if you are traveling by plane have your pet in a crate or carrier for periods of time in your home. If you are comfortable with your pet in a car uncaged, have your pet prepared by taking trips without their carrier and/or using their pet seat belt.
Vaccinate your pet and be sure to check your destination's laws. Different regions and countries will require different vaccinations and paperwork for your pet to safely travel. This is done not only for the particular region's benefit but also for the safety of your animal and others. Protect your pet by scheduling a visit to a trusted vet before leaving and discuss any necessary pre-vacation procedures for your pet.
Always pack a leash. There are many things you may consider leaving behind, however, this might be the most important thing to have. Even animals with extensive training can have a lapse of judgement and become enthralled in new surroundings. New environments can present dangers for your pet and leashes help you protect them. The last thing you want to do is ruin a vacation by having everyone's favorite family member lost in unfamiliar territory.
Prepare for stops, destinations, and layovers. In the same way that a child on a long trip may require additional time for bathroom breaks, food, etc., it is important to plan accordingly for places to stop along your route. No, the airplane won't stop over the Atlantic for a quick potty break, but if you're taking a 1,000 mile road trip it would be beneficial to look out for pet friendly areas for relief and exercise such as rest areas or parks. If traveling by plane, inquire about areas for pets to relieve themselves when arriving, experiencing a layover or catching a connecting flight. Also be sure you've packed the necessary items to clean up after your pet.
Observe and Respect your pet. Traveling the world with your dog or cat is a dream for any animal lover, but ultimately it may not be right for them. Each animal's personality should be considered and observed. If traveling causes them too much stress where they are panting, shaking, barking uncontrollably and defecating maybe you should leave your buddy behind at a trusted boarding company or with a family/friend to ensure your pet's welfare during your next adventure.
Following these tips will help avoid stress for you, your family, and of course your furry friend.
For more tips, services, stories, and more regarding all things pets, check us out at www.Best4Pets.org, a Texan leader in pet related resources.